MCR(E)05 Hydraulic Wheel Drive Motor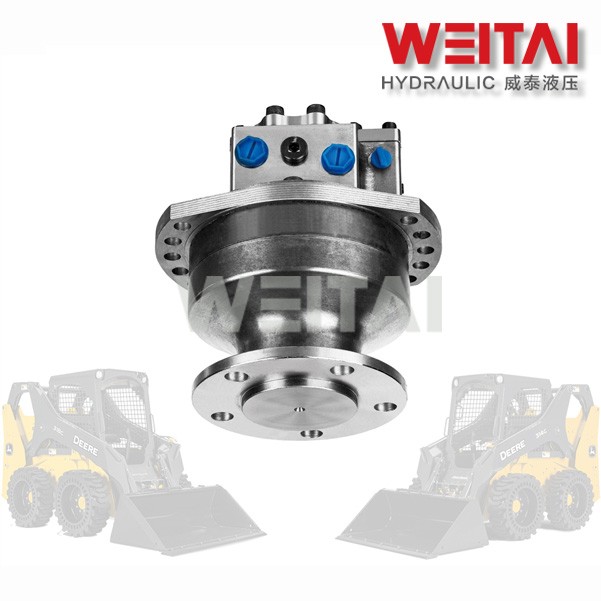 Exactly the same dimensions with Rexroth MCR05 and MCR05E Drive Motor.
Reliable quality in a reasonable price.
Qucikly delivery for orders allover the world.
Interchangeable Parts for Rexroth Motor are also available.
Widely used for off road mobile machines such as Skid steer loaders, Rotary drilling machines, etc.
---
MCR05 Wheel Motor Specifications:
Model
MCR05
 MCRE05
Displacement (ml/r)
380
470
520
565
620
680
750
820
Theo torque @ 10MPa (N.m)
604
747
826
890
985
1080
1192
1302
Rated speed (r/min)
160
125
125
125
125
100
100
100
Rated pressure (Mpa)
25
25
25
25
25
25
25
25
Rated torque (N.m)
1240
1540
1700
1850
2030
2230
2460
2690
Max. pressure (Mpa)
31.5
31.5
31.5
31.5
31.5
31.5
31.5
31.5
Max. torque (N.m)
1540
1900
2100
2290
2510
2750
3040
3320
Speed range (r/min)
0-475
0-385
0-350
0-320
0-290
0-265
0-240
0-220
Max. power (kW)
29
29
29
29
35
35
35
35
We can also supply Parts for Rexroth MCR05 and MCRE05 Motors.
---
Delivery:
In order to offer strong support to our distributor and customers, We keep inventory for most of our standard models.
So we can deliver your order within 3 working days after order confirmation.
All our Motors are with standard exporting package which is suitable for both air-shipment and sea-loading.
Warranty:
All our products are warranted for ONE FULL YEAR from the date of delivery against defects in materials and workmanship.
This warranty does not cover parts that are worn out through the course of normal operation or are damaged through negligence. We serious remind that unclean hydraulic oil will definitely cause damage to your Hydraulic components. And this damage is not included in the warranty range. So we strongly suggest you to use new clean oil or make sure the system oil are clean when using our parts.
Hydraulic Motor: WEITAI Hydraulic full range of Travel Motors from 1.5 Ton to 35 Ton is interchangeable with the Japanese Brands and Korean Brands. Now we are the first choice to replace these brands in the aftersales market and the OEM market. We are also supplying Piston Motors similar to Rexroth Motors and Poclain Motors. Our Motor producing workshop is the best in China and can ensure our Motors with reliable accuracy and quality.
Weitai Hydraulic is represented by a positive and professional sales and service team. We are willing to fulfill your requirements with our high quality products and professional service. A long term mutual beneficial cooperation with you is our proirity!