According to statistics from China Construction Machinery Industry Association, a total of 263,839 units of various Excavators were sold from January to October 2020, a year-on-year increase of 34.5%. The domestic market sold 236,712 units, a year-on-year increase of 35.5%. Export sales were 27,127 units, a year-on-year increase of 25.9%.
It is estimated that the sales volume of excavators in 2020 may exceed 310,000 units, reaching 315,000 units.
In October 2020, the 25 main engine manufacturing companies included in the statistics sold a total of 27,331 units of various excavation machinery products, a year-on-year increase of 60.5%.
Many industries have the term "golden Nine (September) silver Ten (October)", and the same is true for construction machinery.
 Since March, affected by factors such as the epidemic situation and national macro policies, excavator sales and growth have opened a long gap in previous years, reaching a peak with a high growth rate of 68% in May. Beginning in September, the excavator market continued the "Golden Nine" trend of previous years, and sales increased again year on year but declined in October.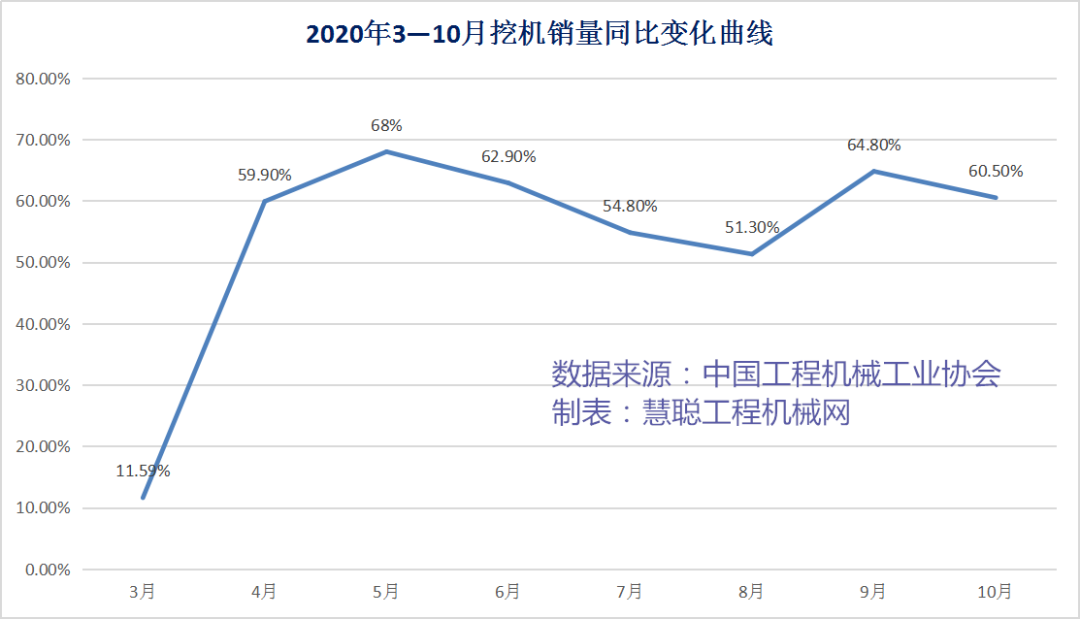 2020 Mar-Oct Excavators Sales Year-on-year sales curve
The booming sales of excavators also drive strong demand for parts. In recent months, the production line of the WEITAI Hydraulic Travel Motor production plant has maintained a busy working state, and workers have worked overtime to ensure the delivery of hydraulic components for major customers.
We also remind our customers to confirm their orders earlier, which will avoid the delay of the delivery time and cause inconvenience to your production and sales.