Swing Motor WSM-30
Features:
● Compact design with small volume.
● High efficiency Piston Motor.
● Precision inside gear parts.
● Smooth transmission and low noise.
● Excellent performance and long durability.
● Integrated with Relief Valve.
● Parking brake inside.
● With Conterbalance Valve.
● Customised flange pattern as required.
● Specifications and Dimensions are the same as Eaton Slew Drive.
---
Specifications:
| | |
| --- | --- |
| Model: | WSM-30 |
| Input Flow | 60 L/min |
| Displacement | 30 ml/r |
| Max Working Pressure | 21 MPa |
| Gear Ratio | 19.46 |
| Theoretical Output Torque | 1940 N.m |
| Theoretical Output Speed | 103 r/min |
| Weight | 80 kg |
| Application | 5~6 Ton |
---
Dimensions: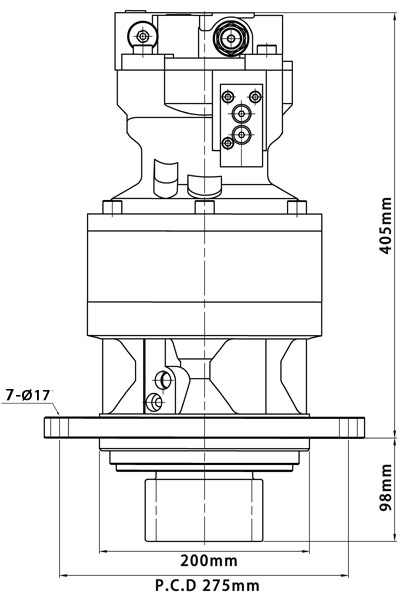 ---
Precision parts: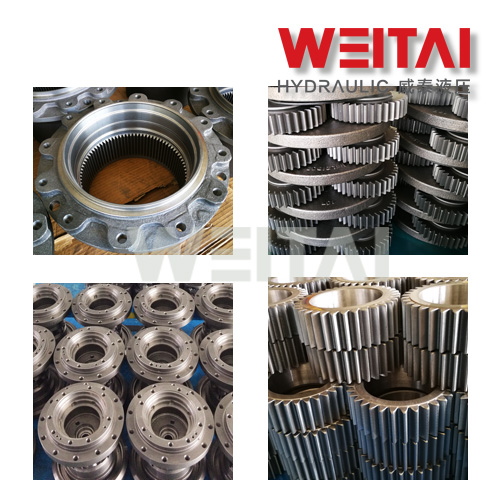 ---
Inspection and Testing: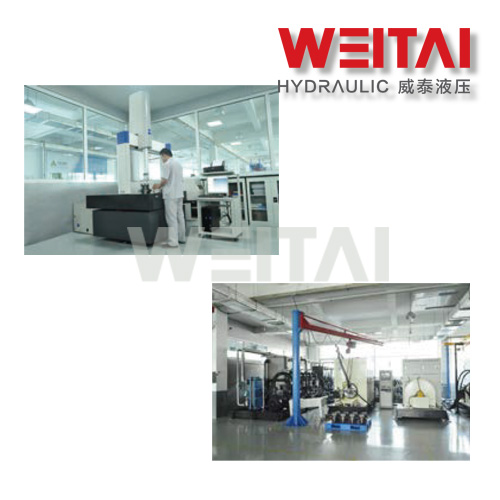 ---
Professional manufacture: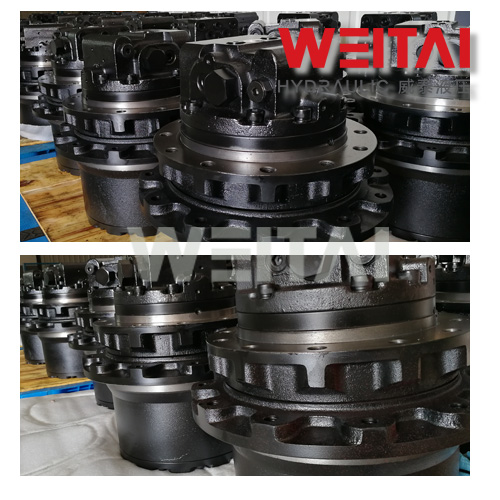 ---
Our Advantage:
1, Many years in Flui Power industry.
2, Improved structure based on famous brands.
3, OEM Motor supplier in China domestic machinery manufactures.
4, Parts are precisionly machined Automatic Producing Line.
5, Real testing for every motors before packing.
6, One full year warranty.
7, Professional international service team to help you.
RFQ
1) What kind of Motors you are making?
A: We mainly make Axial Piston Motors and integrate with Reducing Gearbox which is widely used in Track driving device. We can also make Motors to be used in wheel driving equipment.
2) Can your Motors replace my old Motors in my Machine?
A: Yes. Our motors are with the similar specifications and same connecting dimensions to the mainly Motors in the market. They are perfectly interchangeable with your original Motors.
3) What brands your motors can replace?
A: Right now our Motors are interchangeable with brands such as: EATON, DOSSAN, JEIL, KYB, NACHI, NABTESCO, Rexroth, Poclain, Bonfiglioli, and other similar motors.
4) How can I find the right model to fit my machine?
A: Since different marketing area has different machine models, the best way is to find the Motor brand and model in your machine. Another way is the measuring the key dimensions of the frame flange and sprocket flange. Please contact our sales team to get technical support when you have difficulties to get the right information.
5) Can you make Motor as customer's dimensions and design?
A: Yes. We keep an opened mind to service our customers. We can design and make the change as customer's requirements.
6) Can you list some typical machine manufactures that are using your Motors?
A: The top excavator manufactures in China such as SANY, XCMG, SDLG, etc. are using our Motors to replace the Japanese and Korean brands they used before. We are also the first choice of the Drilling Equipment manufactures in China.
7) Can you supply the spare parts of the Motors?
A: The spare parts are not our priority in the market right now. But we can make spare parts for our valuable clients to support their growing.
8) How long your motors can normally work?
A: Our high quality standard materials choice ensures our Motors with high durability. But the working life of the hydraulic parts depends on the working condition and oil purity. Now we still have motors working in the market which we built 9 years before.
9) What's the packing for the motors?
A: It is wooden case